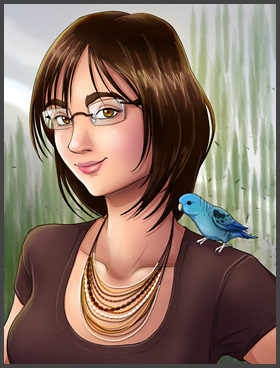 Hi! I'm Robin Sevakis, the artist behind JadedSketch. I'm an illustrator, cartoonist, and general 2D artist with a passion for compelling characters, animals, fantasy, and weird humor!
For 10 years I was an in-house artist at video game studios, while commissioning illustrations and comics on the side. I'm now fully freelance and looking for opportunities to create colorful art for exciting clients, and to license my creations.
I was born and raised in suburban Metro Detroit, where I attended the College for Creative Studies, and then established a life and career in Seattle, accompanied by my husband and pet bird, Petri. When not flailing over art, I can be found getting very excited about food, games, animation, and toys. You know, totally juvenile stuff. 
Follow me on social media sites using the icons below!